Introducing PrecisePRINT™ Laser Cartridges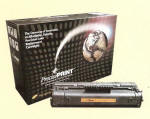 You may not know us
yet
, but PrecisePrint's OEM-compatible,
new
laser cartridges have
earned the confidence of large and small businesses throughout the country. Our rigorous
production standards and quality testing have made our compatibles the envy of our
competition. Couple this with our exceptional attention to customer service, and you can see
why we have developed great vending relationships with hundreds of clients. (click here to
see a partial list). PrecisePrint's prices are typically 30%-50% below OEM prices. And even if
you have already made the switch to an aftermarket product, we can still save you money
while putting you into a superior cartridge line.